Oatflakes are a good start of the day
An oatmeal is a healthy and nutritionous breakfast.
Oatflakes are 100% natural and contain a lot of vitamins and minerals.

To prepare your oatflakes breakfast doesn't take long. You can add some milk or water, serve it cold or warm, and enjoy your good morning start!

The soluble fiber in oatmeal absorbs a considerable amount of water which significantly slows down your digestive process. This result is that you will feel full longer, which can help you to control your weight.

An oatmeal is not only healthy, but also very tasty!


Recipe Porridge
Breakfast for 4 persons

Ingredients:
300 g Oaty oatflakes
900 ml water
300 ml milk
15 g butter
salt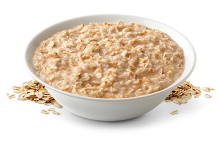 Add the Oaty oatflakes, water and milk in a pot.


Bring to boil, stirring constantly


Add the butter and salt, continue stirring until the mixture thickens (if too thick, add some more water)


Serve and enjoy!


Oatmeal varieties
Turn your oatmeal into an "oatmeal deluxe" when adding:

Fresh or frozen fruits, for example sliced bananas


Dried fruit, like raisins or dates


Chopped nuts, like walnuts or almonds


Syrup


Jam or marmelade